Connect
A blog by CaptureTM - the most trusted memory keeper
October 19, 2023
Legacybox vs Capture: Which Digitization Service is Right for You?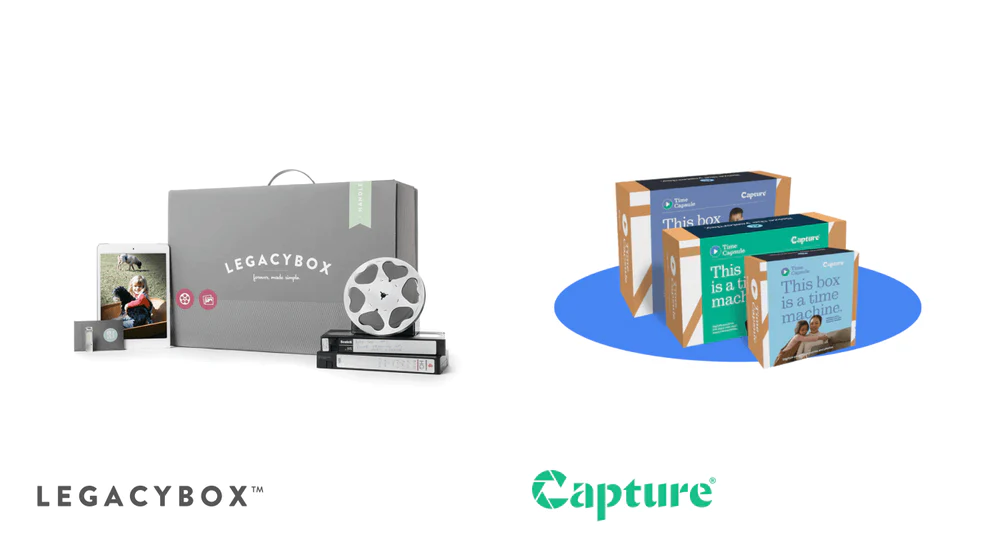 Capture can turn your videotapes, film reels, and old photographs into high-quality digital format, but there are other competitors that also want to preserve your memories.
One of our most popular competitors is Legacybox, a service designed to convert your home movies, family photos, and analog media into digital copies by using a kit that you can pack with your memories.
Keep reading to learn all you need to know about both digitization services including an overview of their transfer service options, experience, and reviews.
Plus, with the head-to-head feature comparison, you will see exactly how the competition between Legacybox vs Capture really stacks up.
Jump to:
-> LegacyBox vs Capture Feature Comparison
Overview of LegacyBox.com
Legacybox was founded in 2009 and since then they have been trusted by over 1 million families. The parent company AMB media actually runs Kodak Digitizing Box as well as SouthTree digitization service as well, but we will focus on Legacybox's offer.
Legacybox can transfer a wide variety of media types including:
Videotapes: VHS, VHS-C, Hi8, Video 8, MiniDV, Betamax, MicroMV, PAL, and Digital 8 tapes
Movie film: 16mm, 8 mm, and Super 8 film reels.
Photos: Print photos, 35 mm negatives, and 35mm/126 slides
Audio Transfer: Audio cassette, micro-cassette, and reel-to-reel audio.
Legacybox offers several kit sizes to digitize your media including 2 item, 10 item, 20 item, and 40 item. You can mix-and-match the type of media you place into the box and easily ship through UPS using their pre-paid shipping label. It will go to their processing facility in Chattanooga, Tennessee and then be returned to you and digitized in 10 to 12 weeks.
Legacybox Pricing
When deciding between Legacybox vs. Capture, you need to compare pricing structures. When it comes to pricing with Legacybox, they price based on the number of items, which is 1 videotape, 1 film reel, or 25 photos.
Up to 40 items: $1,179.98
Legacybox Cloud Storage: $19.99 one-time download or $19.99 per year
While the normal turnaround time for Legacybox is 10 to 12 weeks, they offer expedited shipping options with 10-day prioritization. However, some people find their expedited options confusing because you can only add the normal USPS shipping times at delivery and it costs $39.95 express.
In addition, Legacybox started offering their optional $1,000 Added-Safety Protection Package for an additional cost as a way to combat some negative reviews they have received in the past. We cover some of those complaints in the next section.
Quality and User Experience
With over 1 million satisfied customers, there are lots of good reviews about LegacyBox. Positive experiences often highlight the quality of digitization and the ease of use with their different box sizes. Users say the included instructions and customer service were great.
Unfortunately, many of the positive reviews found on TrustPilot are of new orders that have not even been processed yet. In addition, the 3.4 score is brought down by a lot of negative feedback. The same goes for the SouthTree Better Business Bureau profile that includes Legacybox reviews. This profile holds an A+ BBB rating but has a very poor review rating of 1.16 stars.
Some users complain that their website is misleading with incorrect founding year, inaccurate pricing structures, and dishonest claims. Many users say that they have waited much longer than 12 weeks to receive their original media and digital order. With this comes the fear of lost media that led LegacyBox to add their $1000 guarantee.
Some of the customer reviews go so far as to claim fraudulent activity by Legacybox and potentially lost memories going so far as to say, "I would like to see this company shut down," "LEGACY BOX IS A SHAM AND A NIGHTMARE," and "I highly recommend NOT using Legacybox."
Overview of Capture.com
With over 20 years of experience and 12 million satisfied customers, Capture offers more experience than almost any competitor in the industry. We also offer a 100% satisfaction guarantee and a top-of-the-line security system to ensure family memories are always safe, protected, and preserved for future generations.
Capture offers a wide range of digitization services including:
Videotapes: Betamax, VHS, VHS-C, S-VHS, S-VHS-C, Video 8, Hi-8, Digital 8, DV, DVCAM, DVC, and MiniDV.
Movie film: 8mm film, 16 mm film, and Super 8 film reels.
Photos: Photo albums, print photos, negatives (35mm, APS film, 110 film, 110/220 film, 126 Instamatic film, large negatives), and slides (25 mm, Super 35 mm, 110/220, 126, 127, 127 Superslide).
Digital formats: SD, SM, MMC, CD, xD-Picture Card, and Sony MemoryStick memory cards, Data CDs, MiniDVD, DVD, and USB Drives.
Capture has also developed the first-ever touchless photo album scanning service to digitize old photos contained in photo albums without anyone ever having to touch the individual print photos. This service includes glare removal, cropping, and color correction to create high-quality digital files.
The digitization process at Capture also offers a 30-day turnaround time so you can receive your original media as well as your optional DVD and USB or flash drive copies faster than you would with virtually any alternative.
Capture Pricing
Capture prices their digitization services depending on the media format, length, and other factors. Check out the pricing structure below.
Videotape pricing: For videotapes, you will pay $28.99 for the first two hours of each tape and $28.99 for each additional 2 hours or videotape.
Film pricing: $28.99 for the first 100 feet of film and only $0.25 for each additional foot.
Photos: $28.99 for the first 50 prints, slides, or negatives and only $0.50 for each additional image.
Touchless Album Scanning: $28.99 for the first 35 photos of each album and $0.70 for each additional photo scanned.
Digital Media: $28.99 for the first 90 minutes of each digital device and $28.99 for each additional 90 minutes or device. If your digital devices contain images, the pricing can be calculated by using 7 seconds for each photo.
USB Flash Drive: $14.99 for your entire order.
DVD: $6.99 per DVD that holds approximately 2 hours of video, 1,600 feet of film, or 500 images.
In addition, we offer minor repairs by fixing broken cassettes and ribbon damage and cleaning mold off videotapes and original audio, cleaning, splicing, enhanced colors, and scratch reduction for film.
Quality and User Experience
With over 12 million customers and a Better Business Bureau A+ rating (for our parent company YesVideo), Capture has lots of fantastic reviews that indicate premium quality, exceptional care, and easy process. Plus, reviews show that people don't stop at one order and continue choosing Capture for their precious memories, old photos, film reels, and other media because of the high-quality service they receive.
Any business that's been around for 20 years like Capture is bound to have some negative reviews. Many of these types of reviews are out of Capture's control. One review on the BBB website admitted it was likely due to the Covid-19 pandemic and Walmart's advertising by saying, "it certainly appears that YesVideo can be held harmless."

Other negative reviews on Yelp complain about low quality USB devices, occasional buzzing sound on digital copies, and deceiving pricing structures. The very worst reviews mention delays in turnaround time, inadequate quality, and potentially lost or damaged videotapes and slides. However, you can see that Capture representatives take the time to respond to negative customer reviews on Yelp and elsewhere.

Plus, throughout the years, Capture had built relationships with some leading retailers including Costco, Sam's Club, CVS, and Walmart. This is indicative of their trustworthiness and high-quality expertise.
LegacyBox vs Capture Feature Comparison
Now that we've provided an overview of both companies let's look at how they stack up against each other with some of the most important features.
Supported Media
The types of media that these two brands convert are very similar with both brands converting videotapes, old film reels, and photos. Capture can transfer several videotape and film types that Legacybox doesn't claim to convert including S-VHS tapes, DVCAM tapes, and DVC tapes.
LegacyBox will transfer audio cassettes, micro-cassettes, and reel-to-reel audio which is a service unavailable with Capture and many other brands like iMemories. If you have non-copyrighted content recorded with audio cassettes that you want as digital files, then Legacybox is your only choice.
Capture offers digital transfers for memory cards, USB drives, data CDs, and DVDs that you cannot get with Legacybox. This service can transfer physical media into a digital download or consolidate it all onto a single USB.
Plus, our patented touchless photo album scanning service is the only service of its kind. It can reduce the risk of damage to old photos, photo books, and photo albums because we can scan photos individually without anyone ever having to remove them.
Advantage: Capture
Pricing
Legacybox offers exorbitant prices, and you have to pay for at least the 2 piece box, even if you only have a single item. Starting at $65.98 for only two videotapes, two film reels, or 50 photos, their pricing is as expensive as any company. For 20 videotapes, 20 film reels, or 500 pictures, you will end up paying $599.98 and that doesn't include USB copies, DVDs, or even access to the Legacybox cloud.
Capture is much cheaper, starting at the affordable price of $28.99 for the first 100 feet of film and only $0.25 per foot after the first 100. For context, at $128.99 for 10 3" film reels, you will save more than $170 by choosing Capture vs. Legacybox.
For photos, the difference is greatest because Capture charges 28.99 for the first 50 photo prints, slides, or negatives and only 50 cents per photo after the first 50. That means that for 500 photos, you'd pay over $300 less by going with Capture than you would with Legacybox, which would require a 20 item "closet" for that many photographs.
Capture charges $14.99 for a USB copy and $6.99 for each DVD, while the same optinos are $19.99 each with Legacybox. This, again, favors the pricing with Capture.
Advantage: Capture

Turnaround Time
Legacybox turnaround time is 10 to 12 weeks. Additionally, many customer reviews claim that their order took much longer than the original estimate. While they offer expedited shipping, it's expensive and doesn't inspire much hope given the reviews.
Capture is much faster with a turnaround time of less than 30 days, including shipping. Plus, this includes access to the included MemoryCloud storage account whereas cloud storage with Legacybox costs an additional $19.99.
Advantage: Capture

Security
Legacybox offers barcode tracking, status updates, and a climate-controlled processing facility. These are all great features, but they also added a $1000 protection guarantee on orders due to negative feedback about lost memories. While it's great they now offer that protection, your memories are priceless and worth much more than $1000, so it'd be better if they never lost them in the first place.
Capture spent a fortune to protect your fortune with a state-of-the-art tracking and security system that does much more than provide simple status updates. With 24-hour monitoring and barcode tracking to watch your memories every step of the way, through every hand, and right back to your doorstep, you can rest assured knowing your memories won't be lost.
Plus, we offer a 100% satisfaction guarantee, or we'll reprocess your entire order for free.
Advantage: Capture

Reviews and Experience
With 24 years of experience and over 12 million satisfied customers, as well as partnerships with several major brands, there is a lot about Capture that indicates trustworthiness, expertise, and experience. While there are occasional negative reviews, when compared with Legacybox, the differences are staggering.
Legacybox has numerous negative reviews and low ratings on several third-party sites including 1.16 stars with the BBB. Many customer reviews say that their order is taking way too long, up to 16 weeks or longer, or that it has been lost completely. Plus, many reviewers urge others to avoid the company at all costs and find someone more reputable.
Advantage: Capture
Conclusion

When comparing Legacybox vs. Capture as digitization providers, we see that both offer premium quality results, special features, and many accepted media formats. While Legacybox offers audio transfer and some additional features, the reviews should turn you toward other alternatives.
Capture is clearly the better option when it comes to experience and pricing and, while we may be biased, offers the best value and service. Hopefully we've earned your trust but click here to learn more!


Next Post: iMemories vs Capture: Which Digitization Service is Right for You?