Connect
A blog by CaptureTM - the most trusted memory keeper
October 19, 2023
Our Work With Military Makeover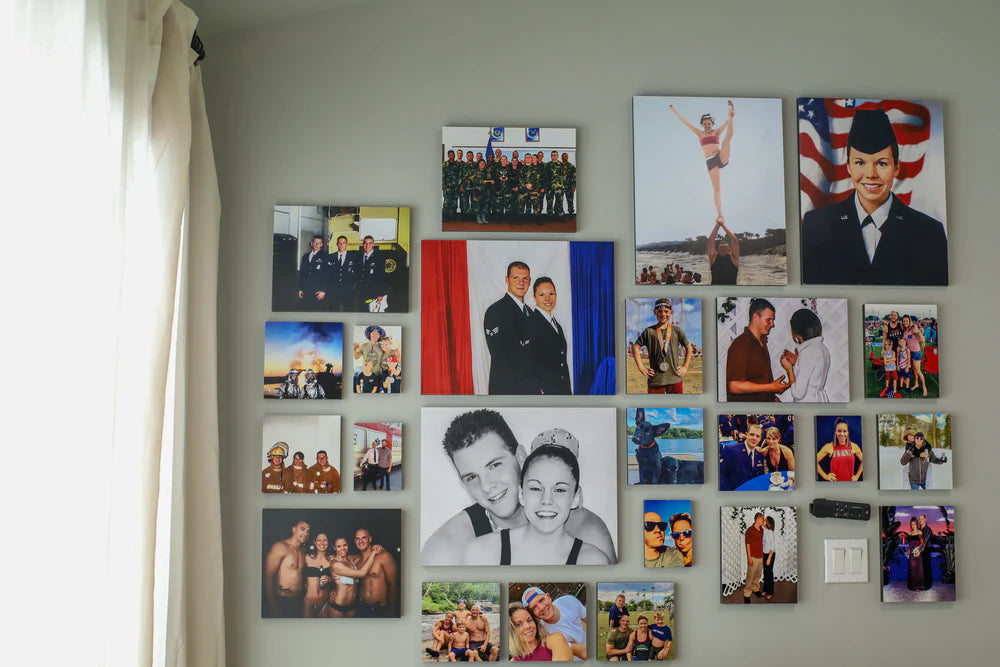 Filling A Military Family's Home With Memories

We are so excited to share our latest endeavor: we are a featured product partner on Military Makeover airing on Lifetime TV! Military Makeover is America's leading reality show that focuses on hope and lending a helping hand here on the home front to members of our military and their loved ones. The home makeover show is hosted by veteran of both the Marine Corps and the Navy, talk show legend and military advocate Montel Williams. 
About the family
Justin and Kristie Ziegler were childhood sweethearts who joined the Air Force together. Life as a young married couple together in the military was challenging for Justin and Kristie, with deployments separating them from one another for long periods, and both witnessing many tragic events and loss of life. The support and love they give one another has provided the foundation for a loving home for their two children and pets.
The show's designer, Jennifer Bertrand, reached out to see if we'd want to deliver a special surprise. She wanted to turn the family's favorite memories into art pieces to be displayed throughout the home.
Working together with trusted partners
Enter The Memory Makeover Project, a joint effort between Capture and Photo Repair Pro that helps families preserve their fading photo, film, and video memories. 
First, our in-house team of experts here at Capture made digital files of the family's memories. Then Photo Repair Pro fixed and enhanced all the images to ensure they'd print well at large sizes. One image in particular was a real challenge: a photo of Justin Ziegler and his boys holding surfboards. Not only did Photo Repair Pro resize and reorient the image, but they recreated the photo to add in one person who was cut off in the original. Their meticulous work transformed a quickly captured beautiful memory into an eye-grabbing piece of art. 
Walmart Photo created the oversized mounted prints. Just as the name suggests, a mounted print is a printed photo that is mounted onto a rigid backing that can be hung directly on the wall without the need for a frame. No surprise, they turned out amazingly well and add a vibrant and unique look to the project. 
"The Capture team is honored to be chosen for this opportunity to give back to the Zeigler family and share our passion for preserving family memories. Being on set with the Military Makeover team, you could feel how much the team truly cared about the project and making it special for the Zeigler family. And we got the added bonus of working with Paul and our friends at Photo Repair Pro," said Lisa McCabe, CEO of Capture.
Preserving more memories
In addition to digitizing the photos for the gallery wall, we also left the Ziegler's with one of our Time Capsule boxes for the family to fill up at their convenience. Moving across the country—or across the globe—with original physical memories is a challenge. In addition to taking up valuable space in the new home, moving with precious physical memories comes along with the fear that they could be lost or damaged in transport. We're thrilled to be able to help ease that concern for the Ziegler family as they build their future together.
Spreading our support to Fisher House
We decided we wanted to do a bit more for more military families. From now through May 31, 2023, we are donating 5% of sales (after any discounts and before tax and shipping to be exact) to Fisher House. The Fisher House program provides a "home away from home" for families of patients receiving medical care at major military and VA medical centers. The homes provide temporary free lodging so families can be close to their loved ones during a medical crisis. 
Don't miss out—tune in to see for yourself
Episodes of Military Makeover air on Lifetime TV.
Curious about digitizing your own memories? Have questions? We'd love  talk to you about preserving your precious memories.