Connect
A blog by CaptureTM - the most trusted memory keeper
October 19, 2023
Give the gift of great memories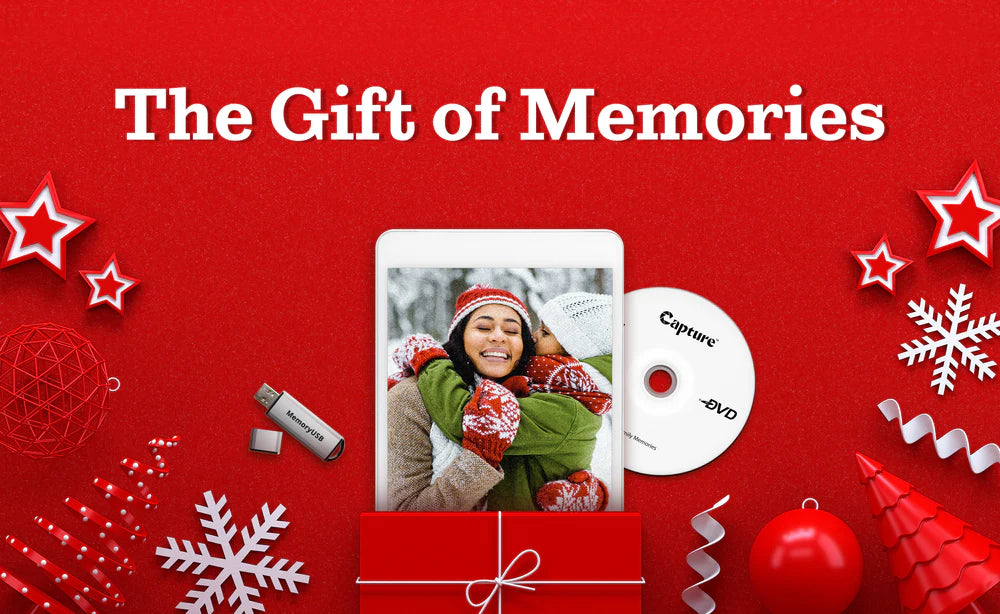 There's an increasing pile of research out there that suggests that spending money on experiences, not things, makes most of us most happy. So how do you incorporate that into your gift giving? We've got you.

We've searched online and off to find unique gifts that are all about making and sharing memories together with those you love. We've also asked Capture employees about the gifts they've given and received that have made a big impression. We hope you have as much fun enjoying these as we've had seeking them out. 
From all of us to all of you, our very best wishes for happy, healthy, and safe celebrations this holiday season.

Cooking and Entertaining
Nothing makes memories like good food and drink with great friends and family.
Anna: "Someone put together a sushi making kit for me with everything you need to make homemade sushi! They even included a small fan for cooling the sushi rice. The attention to detail was so thoughtful and I still use it years later!"
Photo gifts
You can't get more personal and meaningful than photo-based gifts. The options are endless. Here are some of our favorites:
Lisa: "Every year, my husband collects the family photos we captured that year and creates a photo calendar. It connects us with our family that lives far away by sharing what we've been up to. It's now a much anticipated and appreciated annual tradition."
Divine DIYs
If you've got the urge to get a little hands on, a DIY gift is always appreciated. Here are a few to get your creative juices flowing:
Cam: "The people I work with are foodies, so one year I did DIY 'Mini-Mergency Snak-Paks.' I filled a cute hanging pouch with each person's favorite snacks and hung it at their desk."
Travel & Adventure
Whether it's a quick adventure just down the road or a schlep across the globe, the right gear can help fuel the fun.
Bo: "My wife bought me an Alexa mobile and now every time we travel we can say things like 'Alexa play Alan Jackson' and listen to our favorite music together."
Fun At Home
Staying in (or hanging out outside together) can bring about some of the best times. 
Shelby: "I started reading the Harry Potter series a few times as a kid, but never finished. Nearly two decades later, my husband surprised me with a beautiful hardback set to keep forever. I finally finished reading the series! And I know we will read these with our kids one day."
Next Post: How to Throw an Awesome Memory Watch Party at the Holidays