Connect
A blog by CaptureTM - the most trusted memory keeper
October 19, 2023
ScanCafe vs Capture: Which Digitization Service is Right for You?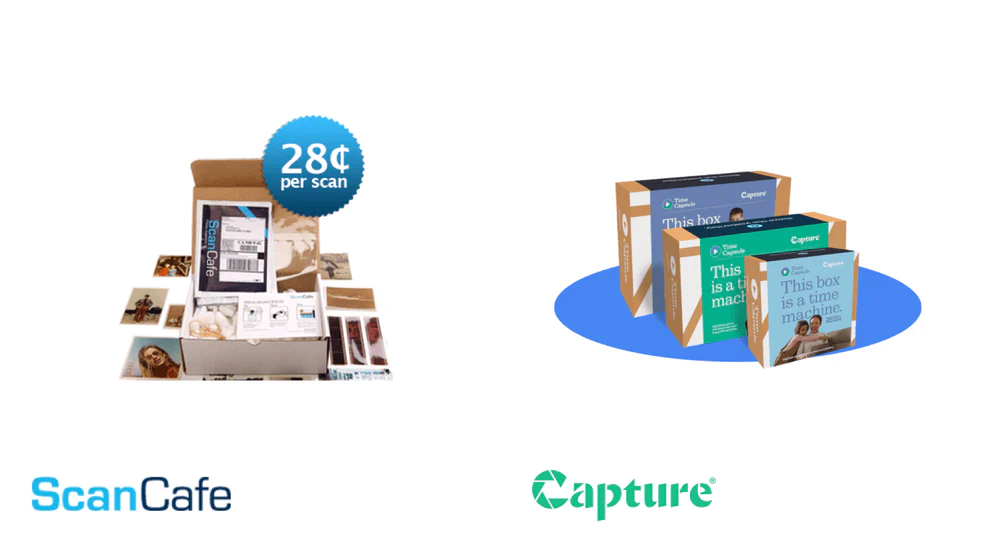 Millions of families still have analog memories like old videotapes, family photos, and film reels lying around. For over 20 years, Capture has been turning those old home movies and images into high-quality digital format, but with so much demand, there's plenty of competition.
ScanCafe is one popular choice that offers similar digitization services, but there are some significant differences between their service and ours. With different pricing structures, service offerings, guarantees, and more, there's a lot to compare.
Keep reading to learn all you need to know about both digitization services, see an overview of experience and reviews, and view comparisons in features so you can make a great decision for your precious memories.
 Jump to:
-> ScanCafe vs Capture Feature Comparison
Overview of ScanCafe.com
With over 15 years of experience, ScanCafe has scanned over 150 million memories. They offer a wide range of digitization services as well as photo restoration, color correction, and image enhancement services.
They are proud to offer digitization for many analog formats including:
Videotapes: VHS, S-VHS, Hi-8, MiniDV, and Betamax tapes.
Movie film: 8 mm and Super 8 film reels.
Photos: Print photos, 35mm & APS negatives, and 35 mm color slides.
Audio Transfer: Audio cassette and reel-to-reel audio.
Data Extraction: Floppy discs, memory cards, CDs, and DVDs.
This company also offers the ScanCafe Subscription Service for an additional monthly or yearly fee. This service allows you to access your memories forever on their private cloud storage network. This preserves your memories no matter what happens to other storage devices like hard drives, smartphones, or your personal cloud storage. Plus, it makes it easy to download memories on any device, any time for you and your family members.
ScanCafe Pricing
When deciding between ScanCafe vs. Capture, you surely want to compare the pricing structures. Here are the different prices for turning your memories into digital files.
Videotape pricing: ScanCafe charges $22.99 per videotape whether it contains an hour or 1 minute of home video footage.
Film pricing: $0.30 per foot.
Photos: $0.44 per scanned image (photo, slide, or negative).
Audio Transfer: $22.99 per audio cassette or $0.30 per foot of reel-to-reel audio.
ScanCafe Cloud Storage Access: $9.99 per month or $99.99 per year.
USB Thumb Drive: $14.95 each.
External hard drive: $69.95 for your entire order.
You can also use ScanCafe for professional photo restoration, which works much better than cheap DIY photo editing software. It works by using your own flatbed scanner to scan your photo prints and submit them for a quote.
Then, you can tell them what you want done including enlargements, retouching, color correction, removing people, removing or restoring tears, blemishes, red-eye, other damage, and more. Then, ScanCafe restoration experts will go through the process to restore the digital images pixel by pixel.
The pricing for ScanCafe photo restoration and Digital ICE digital image correction and enhancement is based on the age and damage to the photo as well as other factors. However, it starts at around $3.00 for each final high-resolution image. In addition, they can also scan to TIFF file format instead of JPEG, which makes it easier for you to edit the photos later because of the high-quality digital image.
Quality and User Experience
With millions of satisfied final scans, there's plenty of positive reviews about ScanCafe. Lots of users find their prices fair and received high-quality results for videos, photos, and old film reels. In addition, their customer service stays on top of things and will help you to make things right after a complaint. These positive reviews are the reason behind their great 4.7 Trustpilot rating.
Though, they also have some negative reviews that bring their Yelp rating down to 3.5. Some customers complain that ScanCafe misplaced their photos or took months to fulfill their orders. While this is rare, lots of reviews do indicate other problems including refund refusals, slow processing times, and false promises regarding quality of the results.
One user who used to love ScanCafe says that their photo scanning services have not kept up with the times. They tried Walgreen's and found that the results were much better. Others claim that DigMyPics also offers more value for photo scanning.
Overview of Capture.com
With over 20 years of experience and 12 million satisfied customers, Capture offers tons of expertise. We also offer a 100% satisfaction guarantee and a multi-million-dollar tracking and security system to protect your memories.
Capture offers a wide range of digitization services including:
Videotapes: Betamax, VHS, VHS-C, S-VHS, S-VHS-C, Video 8, Hi-8, Digital 8, DV, DVCAM, DVC, and MiniDV.
Movie film: 8 mm, 16 mm, and Super 8 film reels.
Photos: Photo albums, print photos, negatives (35mm, APS film, 110 film, 110/220 film, 126 Instamatic film, large negatives), and slides (25 mm, Super 35 mm, 110/220, 126, 127, 127 Superslide).
Digital formats: SD, SM, MMC, CD, xD-Picture Card, and Sony MemoryStick memory cards, Data CDs, MiniDVD, DVD, and USB Drives.
Capture has also developed the first-ever touchless photo album scanning service that allows for photo digitization, without anyone ever having to touch the photos. This service includes glare removal, cropping, color correction, and high-quality JPEG digital images without ever removing or ungluing photos from your photo albums.
Plus, with Capture your photos, home movies, and other memories can automatically upload to your Google Photos Library for effortless organization and easy sharing. We also offer 60 days of MemoryCloud storage with every order, so you have time to transfer to a hard drive, Mac or Windows computer, or Apple or Android smartphone.
Capture Pricing
You want the most bang for your buck when selecting between ScanCafe vs. Capture, so how does Capture charge?
Videotape pricing: For videotapes, you will pay $28.99 for the first two hours of each tape and $28.99 for each additional 2 hours or videotape.
Film pricing: $28.99 for the first 100 feet of film and only $0.25 for each additional foot.
Photos: $28.99 for the first 50 prints, slides, or negatives and only $0.50 for each additional image.
Touchless Photo Album Scanning: $28.99 for the first 35 photos of each album and $0.70 for each additional photo scanned.
Digital Media: $28.99 for the first 90 minutes of each digital device and $28.99 for each additional 90 minutes or device. If your digital devices contain images, the pricing can be calculated by using 7 seconds for each photo.
USB Flash Drive: $14.99 for your entire order.
DVD: $6.99 per DVD that holds approximately 2 hours of video, 1,600 feet of film, or 500 images.
In addition, we offer minor repairs by fixing broken cassettes and ribbon damage and cleaning mold off videotapes and original audio, cleaning, splicing, enhanced colors, and scratch reduction for film.
Quality and User Experience
With over 12 million customers and a Better Business Bureau A+ rating (for our parent company YesVideo), Capture has tons of great reviews that inspire confidence in exceptional quality and customer service. Many reviewers love the way their memories were handled from start to finish with premium care, love, and friendly customer support.
There are some negative reviews as any business will amass over 20+ years of service. Some are out of Capture's control like one reviewer on the BBB website who had difficulty dropping off his order at Walmart, one of Capture's partners. While he admitted it was likely due to the Covid-19 pandemic and Walmart's advertising by saying, "it certainly appears that YesVideo can be held harmless," the negative review still remains.
With nearly 24 years of service and numerous partnerships with brands like CVS and Sam's Club, it's clear we are a trusted option for our experience, consistency, and innovation.
ScanCafe vs Capture Feature Comparison
Now that we've provided an overview of both companies, ScanCafe and Capture, it's time to go through feature-by-feature to show you the end result of the comparison.
Supported Media
The types of media that these two brands convert are almost identical, but there are some differences. First, Capture can transfer several videotape and film types that ScanCafe doesn't list as options on their website including 16 mm film reels, VHS-C, Video 8, Digital 8, DVCAM, and DVC. Capture also offers more digital format conversion for USB flash drives, but ScanCafe offers floppy disc extraction.
ScanCafe also converts audio cassettes, which is a service that most competitors do not offer, including Capture. If you recorded non-copyrighted content onto audio cassettes that you want as digital copies, then ScanCafe is probably the best choice.
When it comes to photo and negative scanning, there are some major differences, not only with the supported types, but with the additional services. ScanCafe offers separate photo restoration services unavailable at Capture. That means, for damaged photos restored as high-quality digital photos, ScanCafe is a great choice. This scanning process can remove water damage, tears, creases, dust, and preserve old photos at a higher resolution DPI.
On the other hand, Capture's patented touchless photo album scanning service means you can send in your full albums for digitization. This service reduces the risk of damage by removing old photos from albums, scrapbooks, and photo books. In addition, touchless photo album scanning is efficient because you can simply pick up each photo album and put them into a box to ship them our way.
Advantage: Tie
Turnaround Time
ScanCafe offers a turnaround time of 4 to 6 weeks, slightly faster than the industry average. While they do offer expedited processing to complete your order in 10 business days, this costs extra and it's not easy to add at checkout due to the outdated and clunky ScanCafe website.
Capture is much faster with a turnaround time of less than 30 days, including shipping. In addition, we offer free 60-day access to your memories on our included MemoryCloud account while the ScanCafe cloud storage system costs extra at $9.99 per month or $99.99 per year.
Advantage: Capture
Pricing
ScanCafe pricing is reasonable starting at $22.99 per videotape, $0.30 per foot of film, or $0.44 per scanned final image. In addition, they offer value kits that can help you save up to 36%, but only for photos, slides, and negatives. With or without the value kits, ScanCafe's regular photo scanning is more affordable than Capture, but that's without restoration that costs as much as $3 per digital image.
Capture, on the other hand, starts a little more expensive at $28.99 per 2 hours of videotape and each 2 hours after. While comparable for videotapes, Capture only charges $28.99 for the first 100 feet of film and $0.25 per foot after. So for 200 feet of film, you would save $6 by going with Capture over ScanCafe, but the more film you have the more you will save according to this fair pricing structure.
Both Capture and ScanCafe charge $14.99 for a USB flash drive copy of your order, ScanCafe doesn't offer a DVD format option. DVD copies cost $6.99 each with Capture.
Advantage: Tie 
Security
ScanCafe offers good protection for your memories compared to some competitors. They not only have a video monitoring facility, but will take the weight of your order when it arrives and before shipping. This is done to ensure all your original media is returned to you in the same condition. They also offer a 30-day return policy.
While that's all fantastic, Capture spent approximately 2 million dollars on a state-of-the-art tracking and security system that does everything possible to ensure your memories are in good hands every step of the way. With 24-hour monitoring, barcode, tracking, and higher quality care, we track your media through every hand and right back to your doorstep.
Advantage: Capture
Reviews and Experience
ScanCafe began in 2006 and offers lots of experience, but Capture started way back in 1999 and has developed several partnerships with top retail brands since. Plus, Capture offers a 100% satisfaction guarantee while ScanCafe only offers a 30-day return policy. Furthermore, many reviews indicate that ScanCafe does not always fulfill returns as they claim.
When it comes to customer reviews, both companies have more positive reviews than negative. However, when comparing the Better Business Bureau profiles of both companies, there is a significant difference. While Capture boasts an excellent A+ rating, the ScanCafe rating is an F, which means they are not accredited by the BBB.
Advantage: Capture
Conclusion
When comparing ScanCafe vs. Capture as digitization providers, we see that both offer premium quality results, special features, and a wide range of accepted media formats. ScanCafe also offers photo restoration and competitive pricing.
However, when looking at reviews and trustworthiness, as well as the length of experience, Capture comes out on top. While we may be biased in saying that, we believe that Capture offers the best value and security for your memories. Contact us today to learn more about Capture!
Next Post: Legacybox vs Capture: Which Digitization Service is Right for You?